We rolled into Telluride for a day this past August and stopped in to chat with the nice (and super helpful) folks at Telluride Angler. Finding out how the San Miguel and her tributaries were fishing was the top priority, but while browsing after our chat, a couple of these Simms Wading Drink Sleeves caught our eye. So we picked up a matching pair thinking they might work well strapped to our kayak seats and the like. Did I really need a "fishing" drink cozy? Likely not, but practically speaking, how much of my fishing gear legitimately falls into the "need" category to begin with?
I do like to take along a beverage now and then when I hike in somewhere to fish. Now when I hike into the backcountry to fish cold water, I just throw a couple of cans in my pack and dunk them in "nature's beer fridge" (otherwise known as the trout stream) when I arrive at camp. But for day hikes and fishing trips, especially here in TX, I have taken to packing in a cold one in my Yeti Colster. Those baby is bomber. About the only thing not impervious to normal wear is the top gasket, but no worries, a replacement can be had for $5. And while it doesn't insulate the top of the can, it is a marvel how cold a drink is after even several hours. I think of it less like a cozy and more like a single-can "cooler." Bonus, it's also available in sizes to fit slim cans and tallboys.
But there are two snags with it that have me forgo the luxury of a backcountry beverage more often than not. First, and most compelling, is the weight. As mentioned, the Yeti, without a beverage, weighs over a half-pound (8.7oz on my kitchen scale)! That may not sound like a lot, but once you add your beverage of choice, you're only 3 ounces shy of carrying an additional pound and a half on your back or in your vest/sling. The other gripe I have is that unless you bring a sealable bag to pack it out with your trash, an empty can (even rinsed), especially of beer, in your bag can make a mess and stink up the place.
So when I made my plan to fish a little remote lake 2-miles into the backcountry, I decided to try the Simms sleeve instead of my Yeti to keep my pack weight down. After the hike in and a couple of hours fishing, was my celebratory beverage as ice-cold as it would have been in the Yeti? Nope. But I had also rolled it in the extra layer I always hike with to add a little extra insulation, so it was still plenty cold enough to enjoy.
If keeping your drink as cold as possible in your pack usurps all other priorities, or if you prefer slim cans or tallboys, then the Yeti is the way to go. That said, there are a few factors that will have the Simms Wading Drink Sleeve (say that 3 times fast) find a spot in my ULA Dragonfly Pack much more often.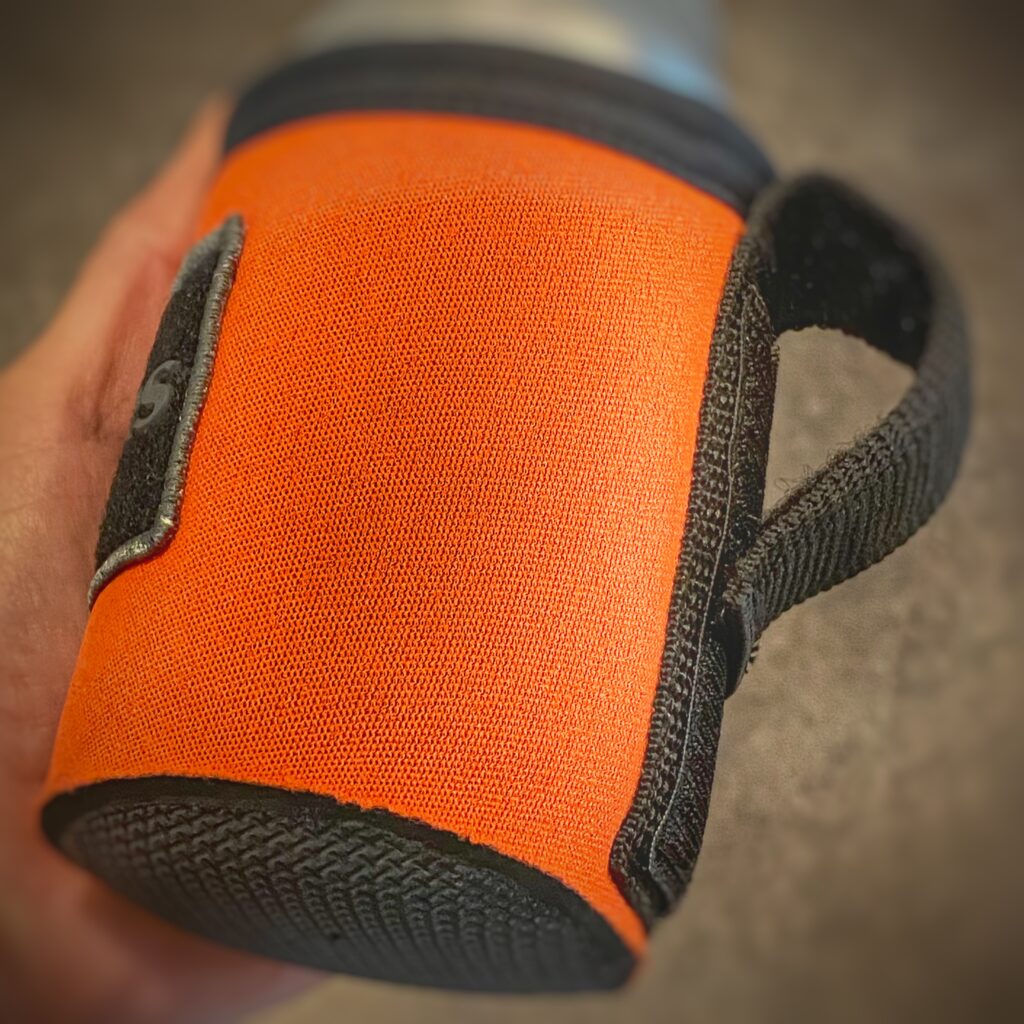 The first, and most influential reason for me is simple. WEIGHT. Made of durable neoprene, the sleeve weighs in at 1.6 oz. That's right, ounces. I mean, it's barely there and will still keep a drink cold enough for long enough in most of my scenarios. It's so light, you could even carry 2 and surprise your fishing buddy with a brew out on the river—or bring two for yourself if you're, you know, really "thirsty." Only time will tell how well it holds up, but even if it needs to be replaced every few years, you're talking 15 bucks here. I also like that the logo patch on the front of the one I chose doubles as a fly patch. Even if I never use it as such, I dig that. And there was one more, unexpected, thing I liked about it. On the reverse side, the velcro strap meant I could fasten it to the OUTSIDE of my pack hiking out, so my bag would still smell like the belly of a fish instead of the floor of a brewery.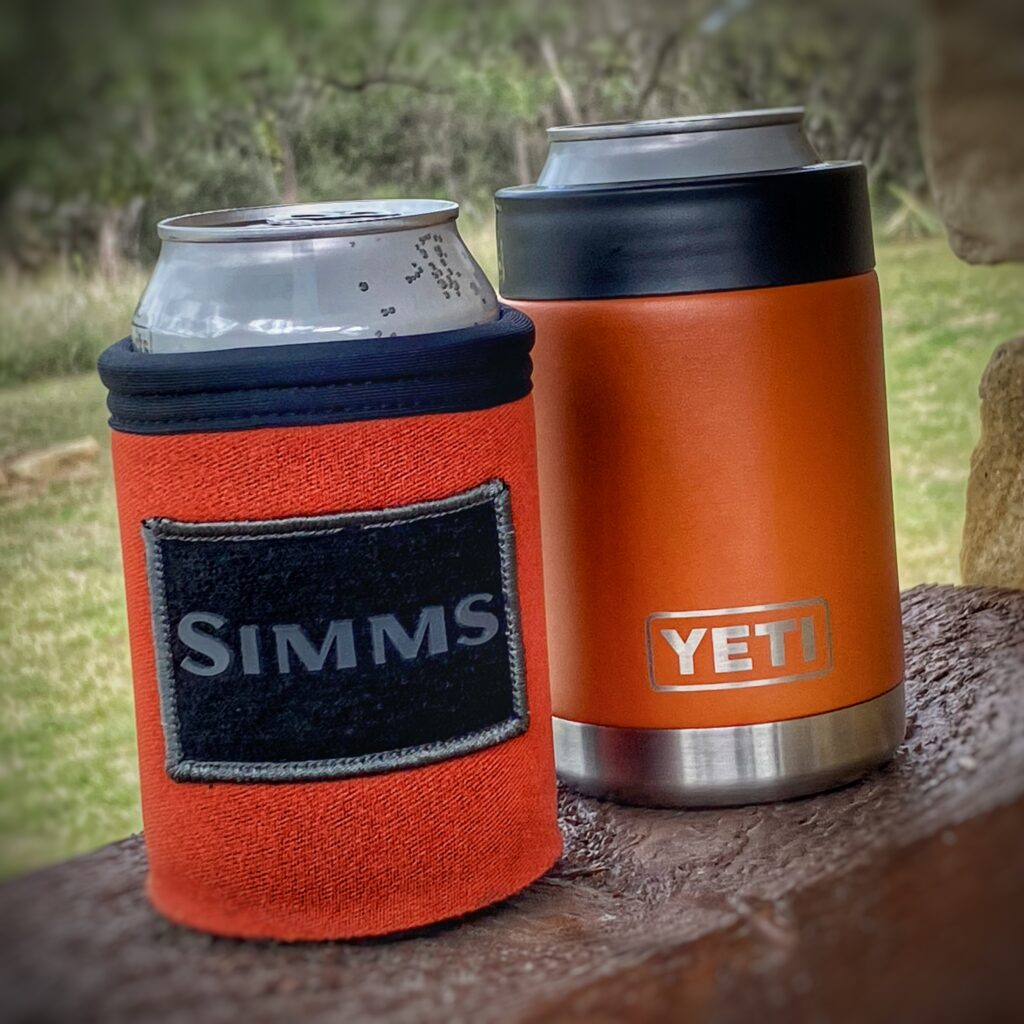 The verdict? Both the Yeti and the Simms are viable options for shuttling your favorite beverage with you to the river or on the trail. If they were boxers, one would be a heavyweight (packing a bigger punch) and one would be a flyweight (light on its feet). So set your priorities, pick your poison, and I'll see you on the river. Cheers!