Robbin was kind enough to share a selection of her on-river journal entries :
Day 1
The hot ride in the school bus from Flagstaff to Lee's Ferry (windows down) was loud, and the conversations were flying like sparks in all directions. The collective positive energy and anticipation was off the chart. Once down at the launch area, I had to go touch the water. It was an amazing emerald green-blue, clear and very cold.
6 rafts were tethered together and loaded to the max with all our gear, plus the 5 extra inflatables that were going to be used and shared. Our 9 guides stood in a line all smiles, and greeted us warmly. I stepped onto Bens (guide) raft and positioned myself in back. He gave a few brief instructions, swung the raft around, rowed into the center of the river and shouted, "goodbye fake world". I thought to myself. This is going to be epic.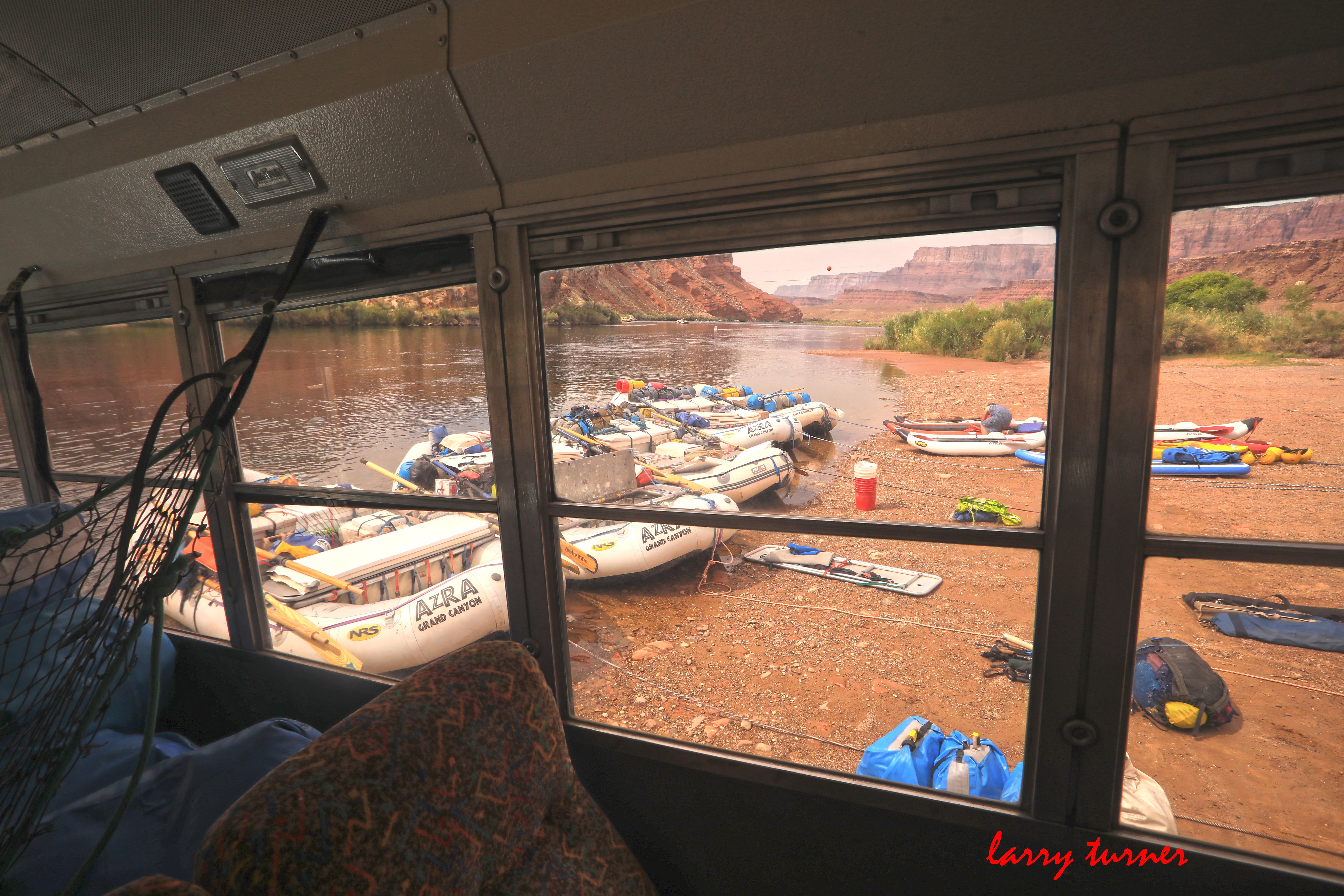 Day 3
I woke to the sound of the sweet Canyon Wren. I lay and watched a handful of bats finish up their breakfast, and as the sun rose, the shadows on the canyon walls looked like colorful patchwork on a giant quilt. I've chosen to not sleep in a tent. I love this night sky. I feel like I'm up there, floating in those stars, and embraced by the universe. I'll tell myself to close my eyes after the next falling star, but they keep coming! Finally I drift off. I'm on layers. A tarp, then a thick mat, and in my dbl sheet that I sewed up like a pocket. It's been enough. I went down to the river last night though and dipped my tshirt in and wrung it out. Wore it to bed. (A/C)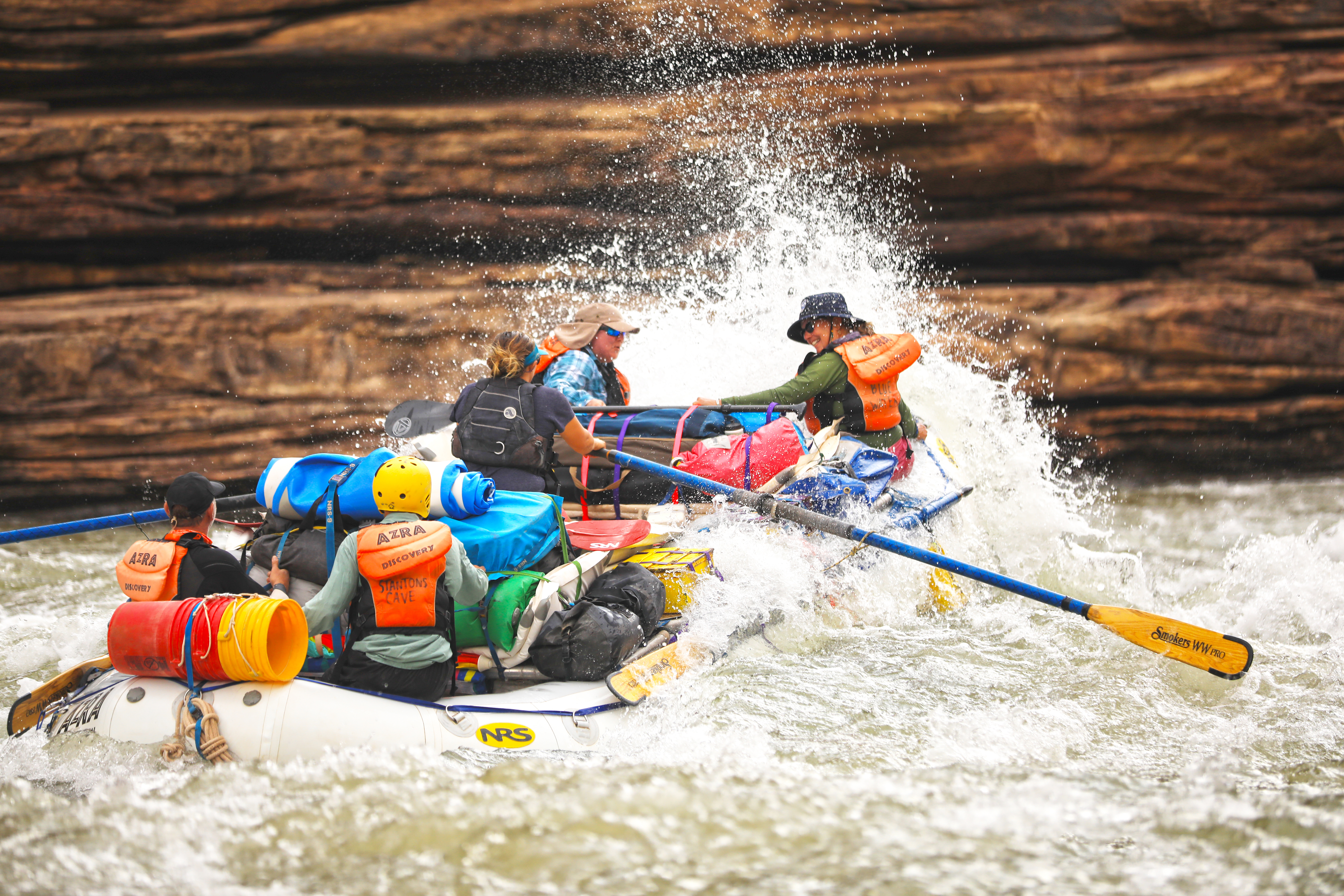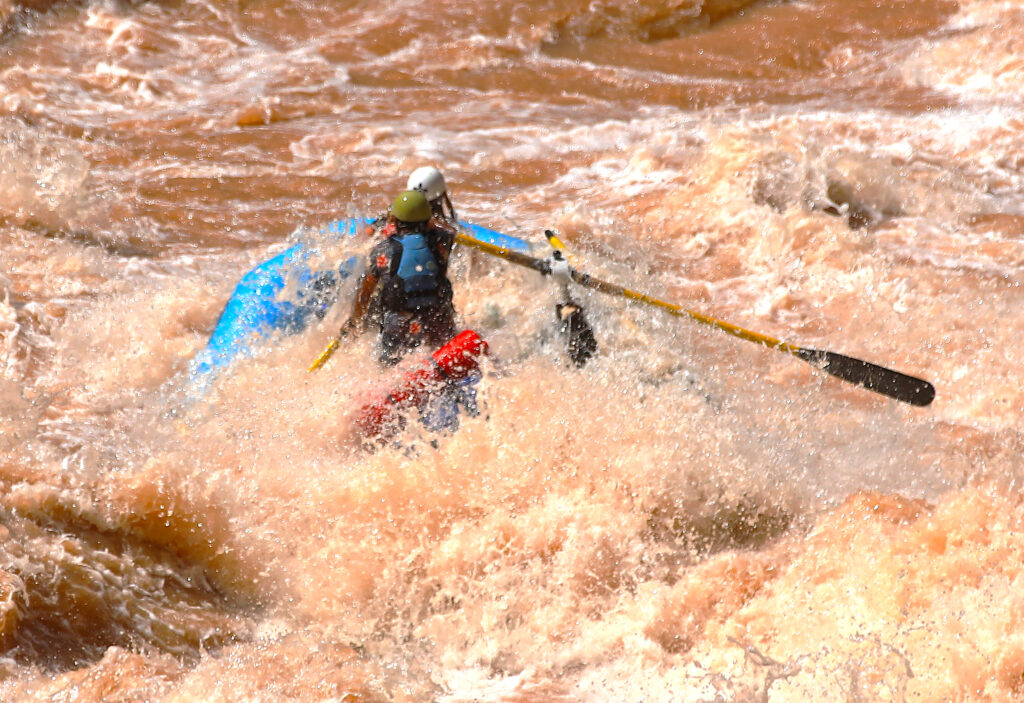 Day 6
BIG rapid day. We did the "gems". Starting with Granite then came Crystal, Agate, Sapphire, Turquoise, Ruby, Serpentine, with Hermit in between. All class 8-10 WOW!!!Rolling waves so friggin' tall, one right after the other. We all made it. No swimmers. Crystal was awesome. We got out and hiked up to scout it from a nice perch. Very intimidating, but I have a lot of confidence in these guides. I'm so impressed with Bobbie. She is a badass kayaking from sun up to sun down. Ely and I have both been on my SUP. What an incredible experience standing on that, floating down the middle of those canyon walls. The heat, the colors, the water. I lost my focus and fell in – a lot. Whew!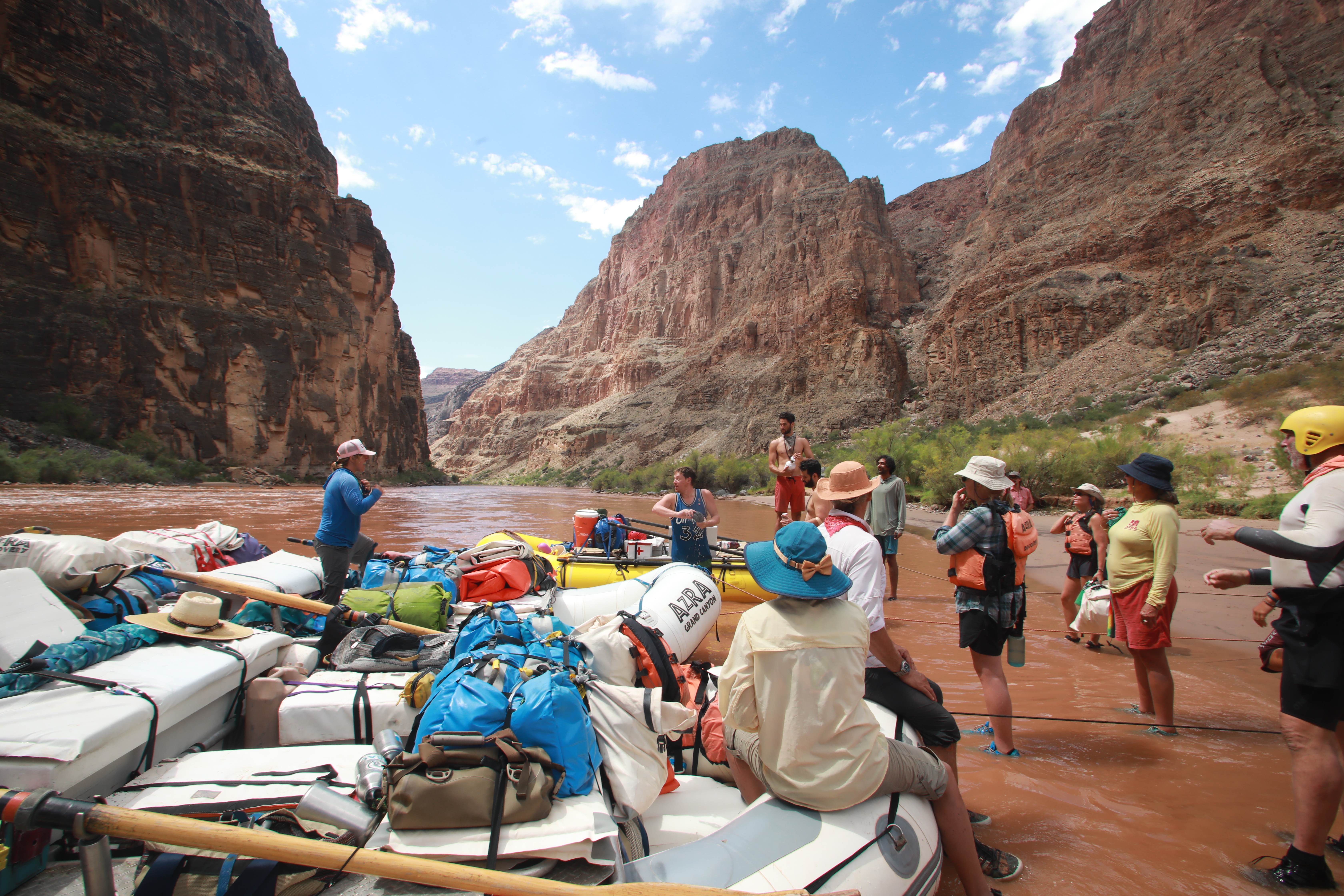 Day 8
A "down day". We've gone 133 miles. We did a nice hike today. Went way into the canyons along a cold stream. It was blazing hot, dipping my sarong in the stream and wrapping it around my head, neck and shoulders saved me. I'm drinking an incredible amount of water with electrolytes daily. At lunch today, the cookie challenge continues…Crunchy peanut butter on a Chips Ahoy, with salt and bacon was the winner. Plus burgers and brauts with sauerkraut, baked beans and guacamole. No one is going hungry. The food and all the meals have been just superb. Janet brought avocados, plums, dried fruit and macadamia nuts from her farm in California. What a treat.
I can't say enough good things about this group of people that Bobbie assembled. Who knew this was going to be so easy? We've become quite efficient at unloading and loading the rafts, serving ourselves and cleaning up after meals, even using the groover like clockwork….we move with methodical focus and great intention. I find myself stopping to watch and listen, and I am in awe at the kindness and cooperation that's being shown.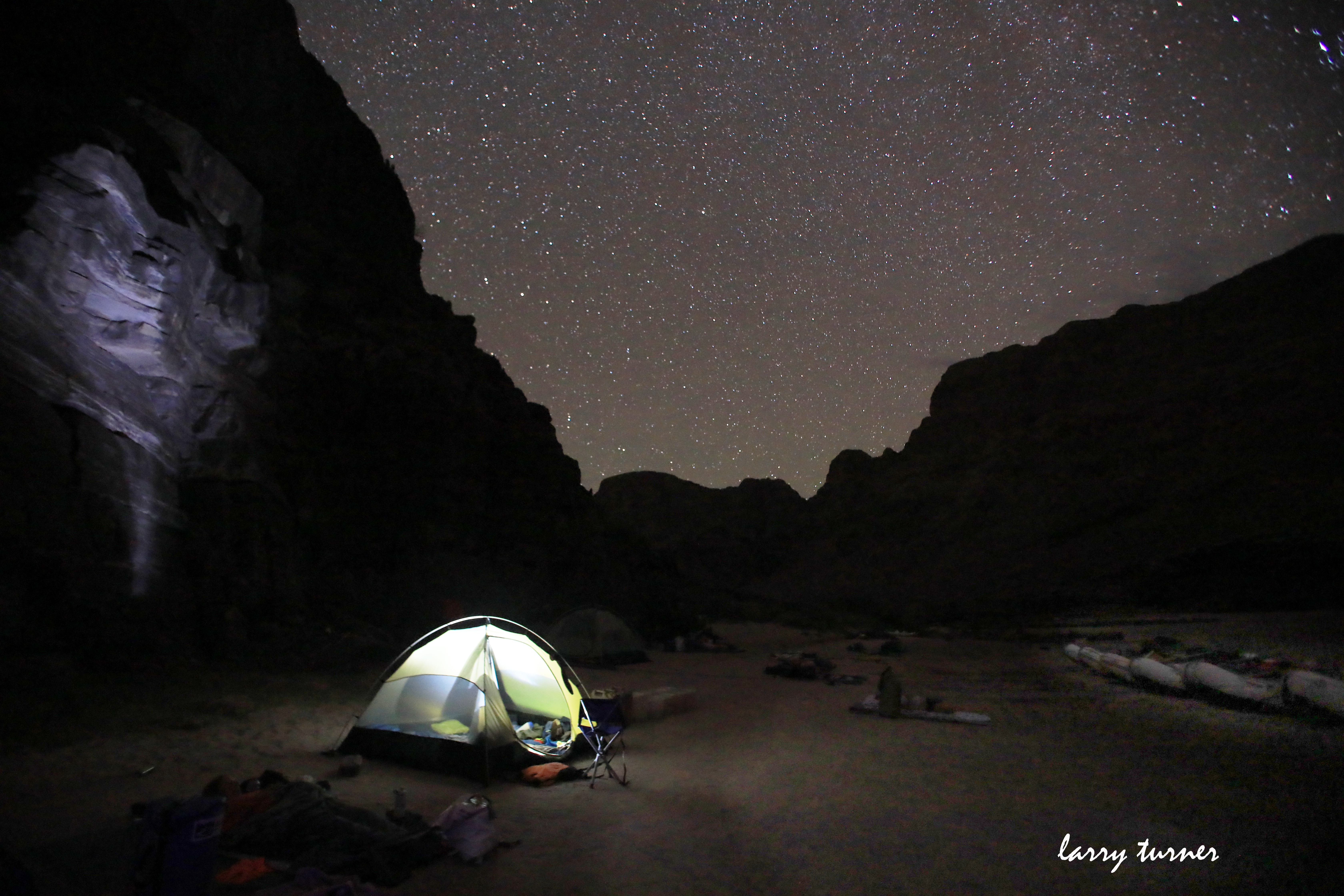 Day 10
A grumpy morning, due to an uncomfortable night. Very windy, gritty, and hot, but also compounded by thinking how much I don't want to rejoin civilization and that "fake world" again. The river has turned a ruddy red. You can feel the silt on your skin. Blisters are popping up in odd places on my feet. (Kevins duct tape suggestion was brilliant) Sore hands from hauling gear, and my shoulder is a little tweaked from paddling and falling off the SUP. I took some Aleve. All in all I'm feeling pretty pleased with myself and this raft trip though.
Ha! Stephanie (guide) rigged up a tripod with 3 oars on the bank of the river and we had a couple of clear solar shower bags that had been heating up during the day, so I was able to wash my hair. That small thing made me feel soooo much better. I rode on the "chick raft" with Stephanie, Andrea and Luci, and up front for the first time. Either way, front or back you're going to get wet. I liked having more to hold onto in the back though.
Upset rapid was pretty dramatic. Bobbie flipped her kayak and released after too much time upside down. Our raft retrieved her kayak, and another raft, retrieved Bobbie. She was fine. We launched her back into the water after she'd had some water and a couple of handfuls of gorp. (salty trail mix) Badass Bobbie. A lot of wildlife today. Bighorn sheep, Great Herons, Lizards. Hawks.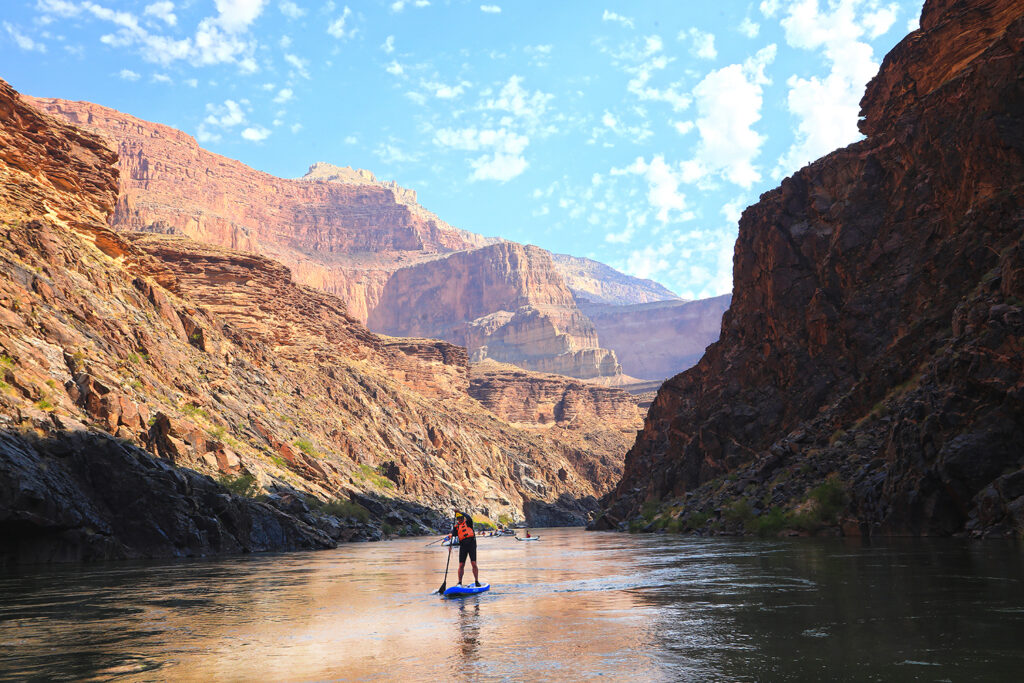 Day 12
Class 10 Lava rapid today – scary. I'm riding with Kevin, the trip leader/ guide. We stopped to scout and watch a dory run through it. It's another, "well we don't have any other option, but to run it" moments…I don't fear the rapid. I fear that cold ass water. We all made it!!! No flips, no swimmers. WOW what a ride. Intense. I swear that raft bent in half like a taco, then sprang open and flew through the air and landed smoothly on top of a wave and rode it, until the ripples.
Crystal and Paul ran it buck naked (except for their life jackets) like they had in years past. Hilarious. 190 miles – no rain despite it being monsoon season. The groover site was picturesque tonite. The best spot ever. I wonder if Larry got a picture of it. We're all a little giddy from the triumph of conquering (Lava).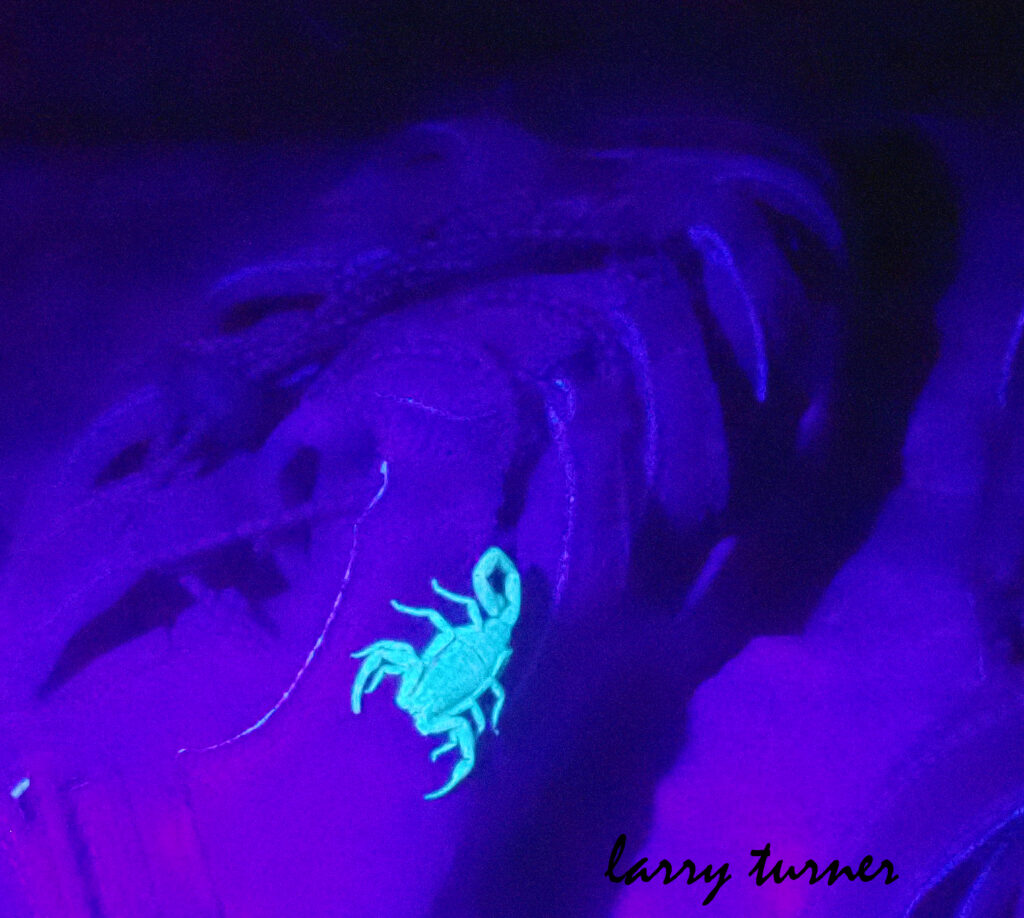 Day 13
216 miles. The water was pretty calm. And hot. Kevin read us a river story, and then we had an epic water fight. I can't say how that even started. No one was spared. Water tube guns, buckets. We were soaked to the bone. It was so fun. At camp this evening, Stephanie (guide) brought out her ultra violet blue light and showed us all the scorpions around camp. They are bright white in the light. Mostly in the rock walls and around the big tree branch areas. I knew this and always slept away from those 2 areas. Several folks have developed the "toelio" foot fungus and it looks really painful. I thankfully have not. This is a new level of dry skin for me. I can't wait for a hot shower and several applications of moisturizer.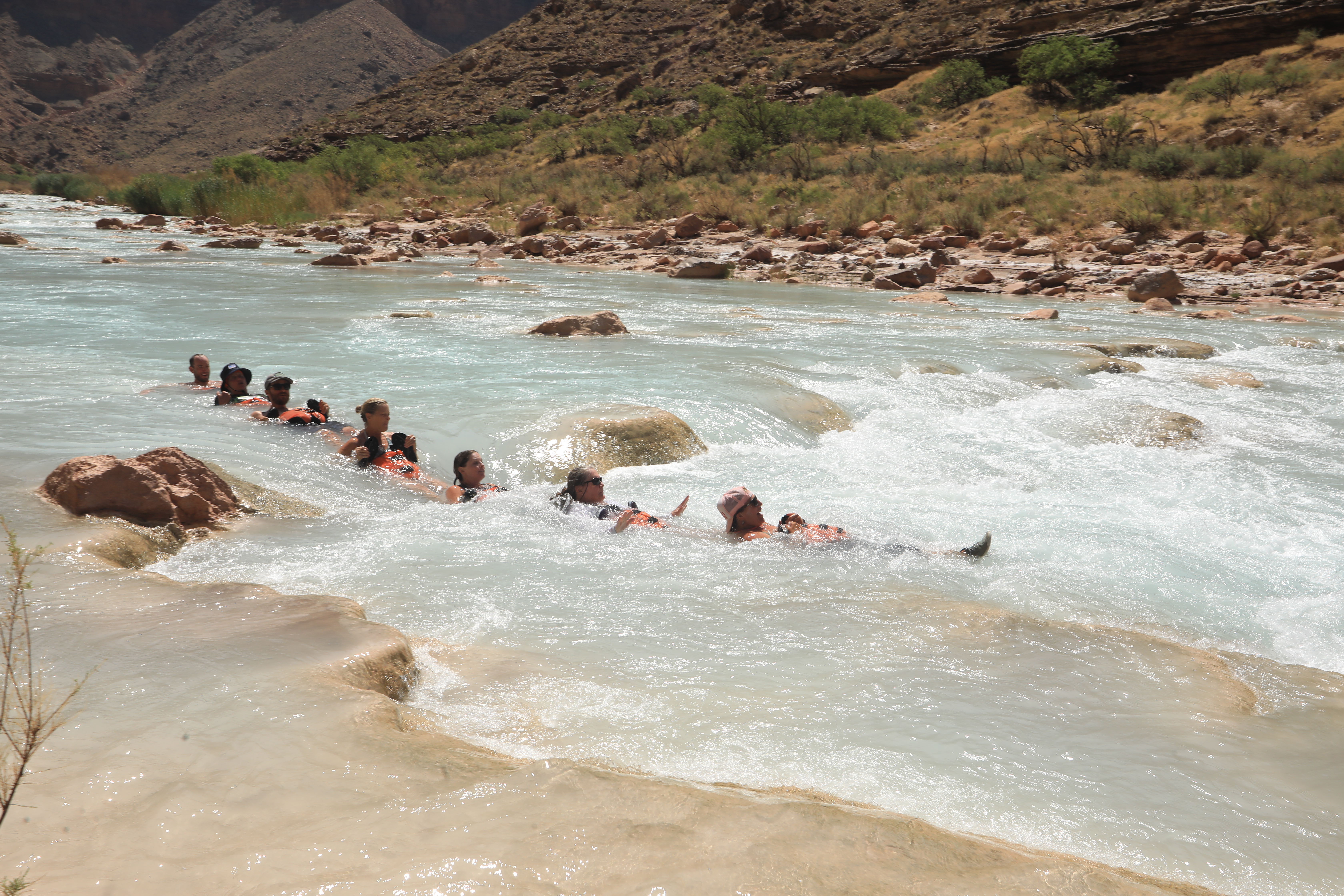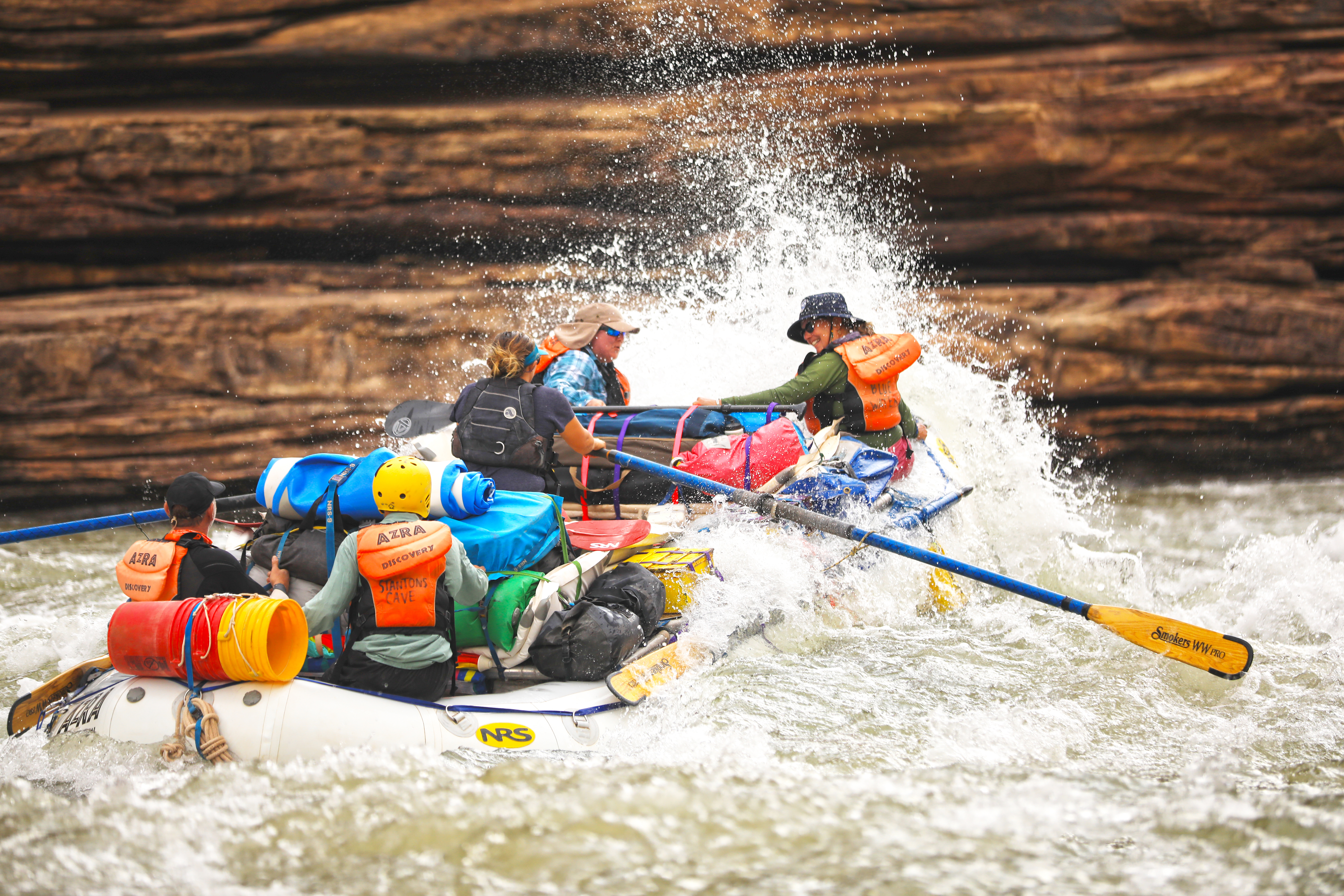 Day 14
Diamond Creek 226 miles Our journey has come to an end. Everyones gotten really quiet these last several miles. And it's cloudy and muggy and going to rain! Taking all this apart – de-rigging – is a BIG production. And we want to do it now before the road washes out where we are. We emptied our AZRA assigned bags (2) and they handed us 2 plastic bags to put all our gross clothes in. I toss a lot in the trash. It's never coming clean again.
I'm feeling very torn whether to circle back, and visit the rim before I drive back home, since I've never seen it. I think not. I think I will save that for another trip when I can hike in – not in August. I need some time to process this river perspective.There were just so many breathtaking, other worldly moments that are hard to even describe. I just feel incredibly lucky – blessed- fortunate to have done this.
– – – – – – – – – – – – – – – – – – –
If you'd like to see more pics and hear more about the trip, Robbin collaborated with Photographer Larry Turner for an even more detailed account. You'll find it HERE.