©2022 Cari Ray, The Fisher of Zen
I firmly believe that fly fishing within a context of mindfulness practice is immeasurably beneficial for mind, body, & spirit. Sometimes by offering low-hanging fruit like fly casting and being in nature. Sometimes by offering situations that border on tedious or frustrating, presenting us with the choice to get bogged down or to rise above. Like most healthy choices, it gets easier with practice. In the "Why Fish for Zen?" series, I'll highlight just a few of the opportunities offered by the pursuit of fly fishing that give you a chance at that sort of mindfulness "practice" and help you become more balanced and centered in your daily life. Mastery is never about your relationship to anyone or anything else, it's always between you and you.
The therapeutic aspects of fly fishing are well documented at this point. A couple of the most widest known examples of its application are the retreats and mentoring offered by organizations like Casting for Recovery, Reel Recovery, and Project Healing Waters. If you haven't checked out those organizations, please do so. Consider supporting them financially or with your time.
Bring up any of those organizations to fellow anglers and they'll say things like "yeah, that's so awesome," or, "I think it's great how they help those people." Yes, it is. And if you own, or can borrow, a fly rod, you have access to that very same support. Excuse the wordplay, but it's just a cast away.
The activities associated with fly fishing offer ample balm for body, mind, and soul…wading, fishing, spending time in nature. But they are all, I wager, eclipsed by the moving meditation that is fly casting. The motion, the rhythm, the flow…the fact that when one is focused and connected with the cast, everything else effectively disappears.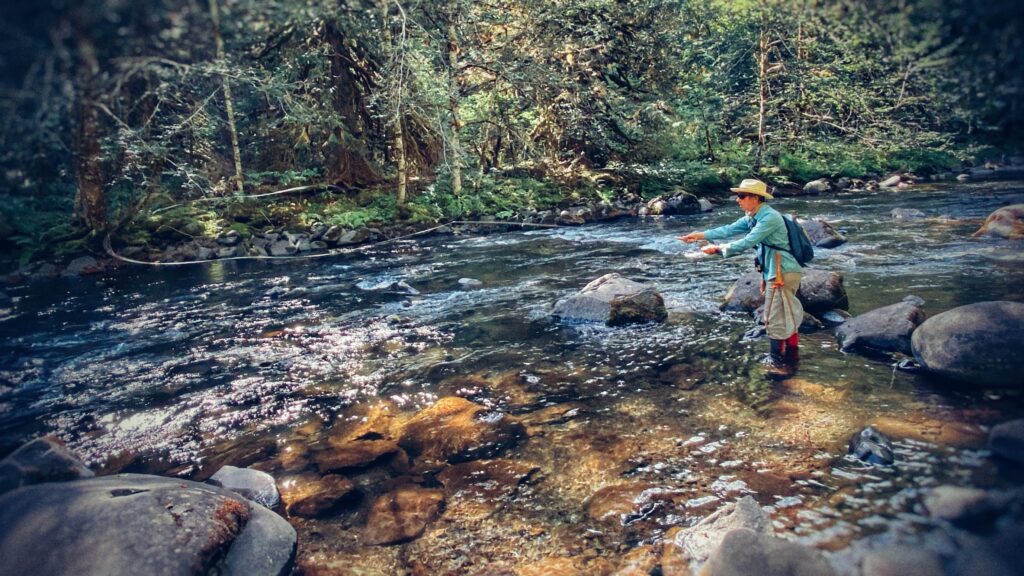 You don't have to wait until you go fishing to tap into that zen. In fact, it would likely help your angling game as well as your mental state if you didn't wait. Casting, to me, is almost its own pursuit. Even before I was training to become an FFI Certified Casting Instructor, I kept a reel spooled up with some "lawn line." Not just to practice a particular casting style in preparation for a planned trip, or to work on casting in windy conditions, but as a stress reliever. If you're having trouble knowing where to start or wondering if you're even doing it right, I highly recommend investing in a session or two with a proficient casting instructor.
And now that so many of us work remotely, it becomes possible to access this support just about any time. Look at it like a modern-day "smoke break," only without the health risks. If it's not something you've done before, it might feel a little strange at first to stand on the lawn making casts. And if you do it in public, it can take a little time to get used to the occasionally annoying but good natured "Hey there, you'd have better luck if you cast that into the water," or "Um, you know there's no fish there, right?!?" But I promise you, it's totally worth it, and learning to chuckle along with the peanut gallery is its own zen practice.
To listen to the whole series, check out our podcast:
"A MOVING MEDITATION: Fly Fishing & Mental Health"